Below the surface.
Above average.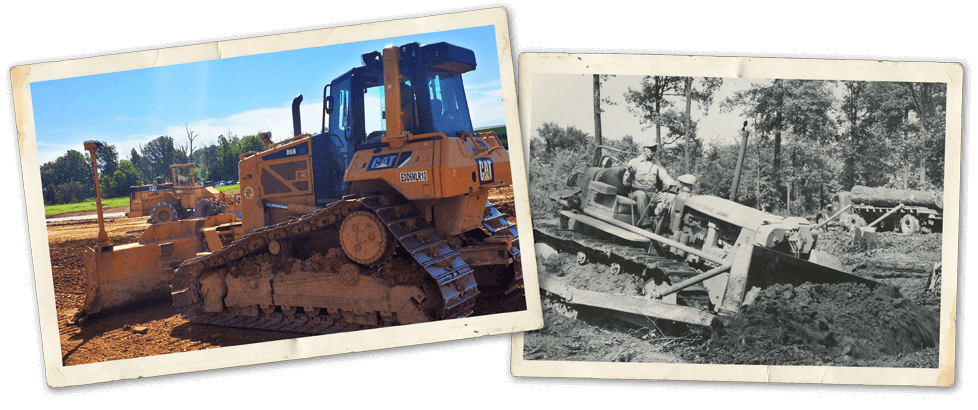 Fox Contractors Corp. is an Indiana-based earthmoving and underground utility contractor. We specialize in heavy highway, public works, commercial and industrial site development. This includes work for DOT's, municipalities, general contractors, developers, healthcare, education and environmental projects.
Since 1948, we've built a reputation for impeccable work, fair pricing and a highly skilled, safe and reliable workforce. No matter the size or scale of a project, we can get it done – safely, on time and on budget.
To meet our customers' needs all year long, our team collectively completes more than 200 hours of annual training, and our state-of-the-art vehicle and equipment fleet is maintained by a full-time crew at two regional shops. By continuously refreshing and upgrading our specialized fleet, we guarantee precision and efficiency on every job.
Our ongoing commitment to service has helped us earn generations of loyal customers. Fox Contractors is a Certified Minority Business Enterprise (MBE) and a 100% union contractor signatory to the Operators, Laborers, and Teamsters. We are also prequalified with the Indiana, Michigan and Ohio Departments of Transportation.
"Fox places a high value on safety because our people are our #1 asset. We strive to minimize or eliminate hazards all together, so that all employees can work in a safe environment, without losing time. Our safety-first approach is reflected in our extensive training and education, as well as an employee safety commitment that starts from the top down."
Dallas Day, Owner, Fox Contractors Corp.
Equipment
Scrapers
Excavators
Bulldozers
Motor graders
Compactors
Rollers
Haul trucks
Dump trucks
Skid steers
Loaders
Trenchers
Various support
equipment
NEW Rock Hawg
Capabilities
Site Preparation
Utility installation
Foundation excavation
Site clearing
Trenching
Earth moving
Demolition
Seeding and sodding
Erosion control
Stonework
Subdivision site prep
Airport site prep
Landfills
Wetlands
Quarries
Engineering
Surveying
Check out the latest addition to our ever-growing fleet of equipment. It's sure to impress and destroy.

The Midwest is our sandbox.
Fox Contractors Corp. is headquartered in Fort Wayne, Indiana, with a regional office in central Indiana. We primarily serve customers in Indiana, southern Michigan and western Ohio.
Getting dirty. Staying safe.
Awards
BCA – 2015 Safety Excellence Award for Outstanding Effort in Promoting Construction Workers' Safety Throughout 2014
Building Contractors Association – 2014 Safety Excellence Award for Outstanding Effort in Promoting Construction Workers' Safety Throughout 2013
Building Contractors Association – 2012 Safety Excellence Award – Top in Category – For Outstanding Efforts in Promoting Safety Throughout 2011
Pepper Construction – 2011 Safety Top Performer Award – Over 1,000 Observations
Indiana Construction Association – 2011 Safety Program Award / Gold Summit Award
Building Contractors Association – 2010 Safety Excellence Award – Supervisor Safety Award to Matt Chaney
Projects in Progress
I-69 Pavement replacement in Grant County Indiana featuring the Rock Hawg
IU Hospital West Vertical Expansion Avon Indiana
Hoosier Landfill Cell D construction Packerton Indiana
St. Joe Ctr Road Improvements Ft. Wayne Indiana
Sweetwater Music Distribution Center site work Ft. Wayne Indiana
Copper Creek Subdivision Site work Huntertown Indiana
Plus, many other projects
As a customer, your earth
is the center of our world.
"I welcome the opportunity to work with Fox Contractors on our projects. They've built a reputation as a go-to contractor, particularly when the underground environment is complicated with existing utilities. Their field supervision is great to work with – from pre-planning our projects, to daily task planning, to execution of the work. Owner Dallas Day has demonstrated a strong personal commitment to safety that's reflected in the actions of his entire team.̵
Dave Murphy
Safety Director, Pepper Construction of Indiana
"In our longstanding partnership with Fox Contractors, we have built a shared interest in providing the ultimate owner of our services with a project that meets or exceeds expectations in all ways. The manpower provided is high quality, schedules are achieved, communication is open, and we always have the appropriate equipment to perform the work safely. We look forward to working with Fox Contractors when the need arises."
Joe Bash
Account Manager, F.A. Wilhelm Construction Company
"Fox Contractors is more than a subcontractor for Weigand Construction. Over the years, we have worked with Fox on countless projects and they exceed our expectations every time. They're not only hardworking and knowledgeable; they go above and beyond what is required to get the job done. Responsive, reputable, and honest, Fox Contractors contributes to the success of every project we work on together. We wholeheartedly endorse Fox Contractors as a top-notch excavating contractor."
Larry Weigand
CEO of Weigand Construction
Contact Us

5430 W Ferguson Rd,
Fort Wayne, IN 46809
(260) 747-7461
4355 S Indianapolis Rd,
Whitestown, IN 46075
(317) 769-6291

Fox Contractors Corp. is committed to becoming a pro-active, profitable construction company specializing in earthwork and related services, which incorporates industry-standard management practices, and produces excellent quality for its owner-clients while providing a safe and quality work environment for its employees.
Ready to be a road warrior?
Fox Contractors frequently hires to fulfill staffing needs & construction projects.
We are an Equal Employment Opportunity Employer.
If you're ready to join the Fox team, there are two ways to apply:

Apply Online
using our secure form.
- or –
Download our application and hand deliver, mail or fax your completed application to:

8902 Airport Dr., Ste B
Fort Wayne, IN 46809

Fax: (260) 747-7717
Request a Quote